Dear community, due to recent activity on this thread, we limit the number of skins, each member can post here:

Do not post more than 5 skins at once.

If your skins are not taken, you can remove it and replace them,if you want. But keep the number of 5, please. There were some guys, posting tons of skins here without really being creative. That was considered spamming and they have been banned from forum, what is a pity.

We hope for cool skins and are happy to add them and then and reward the creator

[edited by Gandalf on 9th Feb 2017]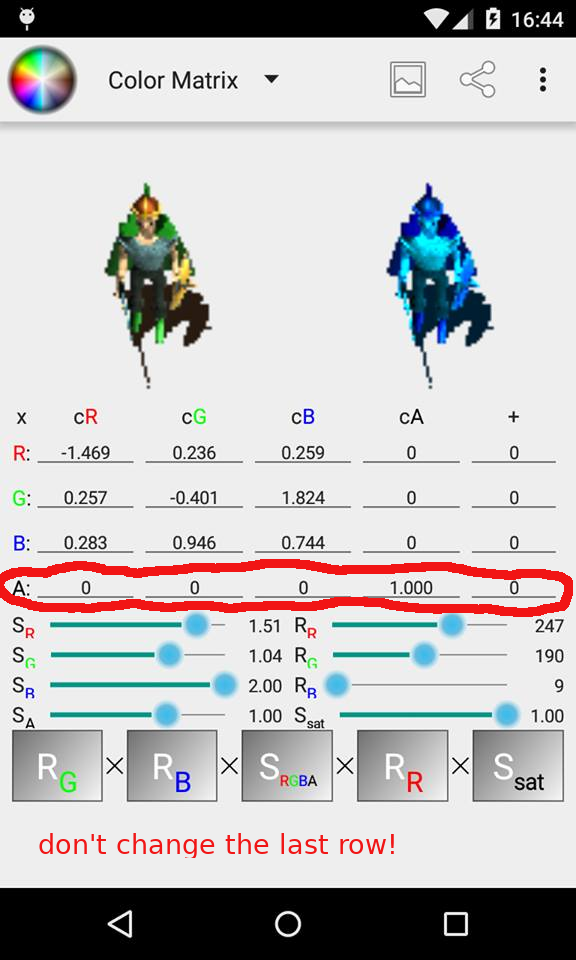 The new game client will support feature for changing colors int default skins. It will not increase game size

So we can have tens of different colors.
You can send your suggestions here. How to do it?
* Download this program:
https://play.google.com/store/apps/deta ... lorfilters
* Download map editor
http://dmgamestudio.com/files/forgotten ... editor.zip
* Using any graphic program extract one frame from animations which are stored in map editor in folder assets/textures/units and load it in first program
* Using sliders adjust colors. If you like it then post here output image and paste here matrix. For the above image it is:
Code: Select all
-1.469f,0.236f,-0.259f,0f,0f,0.257f,-0.401f,1.824f,0f,0f,0.283f,0.946f,-0.744f,0f,0f,0f,0f,0f,1.000f,0f
MadMikael wrote:Some advice on submitting skins can be found here:

viewtopic.php?f=25&t=14130

Feel free to go back and edit your existing submissions if you like.